I graduated from Brookfield High, Brookfield, CT (Home of the Bobcats) in 1994. *pause* while I let that sink in that I've been out of high school for almost 19 years. I swear it doesn't seem like it's been that long.
It's hard to describe who and how I was in high school. It's amazing how small your world is when you are 15-18 years old. I wanted to have a ton of embarrassingly awkward pictures to post on here, but it seems that most of my high school-era pics are somewhere in my parents' storage unit. Oh darn.
Now, I know some of you hated high school. I really enjoyed it. I think I made the most of my high school years. Of course, I could have focused more on academics, but can't fix that now!

JOCK (BUT NOT THE COOL KIND)
I was a jock in high school. I played varsity soccer (as goalie) and varsity tennis (at #1) all four years. Actually, I only played 1/2 the season at #1 my Freshman year because I broke my ankle (being a klutz – that hasn't changed) and spent 6 weeks in a cast, missing the bulk of the tennis season. We had some sports successes here and there. Our soccer team won our conference in 1991. And my junior year, I received a little bit of attention when our tennis team ended the Joel Barlow Girls' Tennis team's 122-match win streak. That was almost better than winning any conference! (It's hard to find any articles, however, because the internet wasn't invented yet).
The picture below is of my bestest friend in the whole world, Jess giving me a hug. Our senior year of soccer, we seemed to end up in way too many tie scores that led to shootouts. Shootouts suck when you're the goalie. This pic was in our local paper the day after we lost in the state semis in a shootout.
So, I was a jock. But, I was not a "cool, popular" jock, really. And I was a tomboy. Shocking, right? I wasn't into the same things as the other girls in my grade. I didn't care to go hang out at the mall, or shop at the gap, or fawn over New Kids on the Block (although I did have their Christmas album).
I didn't dress too cool. My clothes were for comfort (hmm, pretty much the same as now). I wore sweatpants and sneakers, or jeans and (knockoff) Doc Martins. I watched college football with my family on Saturdays. I loved Jimmy Buffett and Heart.
Almost every weekend, I was traveling somewhere in New England for a tennis tournament. My senior year, my doubles partner and I were ranked # 1 in Girls' 18 Doubles and we received our award during a ceremony at the Tennis Hall of Fame in Newport, RI. Now, truth be told, we never practiced together (she lived 4 hours away), we played 4 tournaments together and won all four. Three of the four tournaments, our first match was in the finals because we had a bye for the semi-round. You can say that we benefited from most of the girls (who regularly kicked our butts) in our league being 6-12 months older and already in college. But I just like saying I was ranked # 1 in New England at one time in my life!

I WAS A LITTLE BIT OF A DORK
I spent my summers at tennis camp at Sweet Briar College, VA and occasionally at "goalie" camp for soccer.
During the winter season, I worked as a "student trainer" the the school's athletic trainer.
I was a peer counselor all 4 years.
I didn't drink or smoke but attended parties occasionally.
My friends were the "good" kids. My parents knew their parents. My parents knew my friends. My curfew was 10 pm. I didn't go out on school nights. My friends were all in the top 10 in our graduating class. They were all in National Honors Society. They were in AP classes. I was not. As my teachers (and my mother) would constantly say, "if only you applied yourself, Holly…"
I tested high enough for Honors classes but only took the Honors classes I felt I could handle. Of course, this meant that my Senior year I stayed away from AP Calculus and took "College Prep Math" instead. I distinctly remember being bored out of my mind, embarrassed by how rude the kids were to our overwhelmed (and pretty ineffective) teacher and fascinated by the kid next to me who usually rolled his joints during class.
A typical school day for me during the Fall would be 5:30 am tennis at the club, shower, cheerios in the car, full day of school, study hall after school (mandatory by our soccer coach), 2 hours of soccer practice after study hall, back to tennis center for play or work a few hours.
I remember making friends with many of the teachers (this came in handy later when I came back to BHS to teach in 2000). My homeroom teacher gave me this book – The Right to Privacy by Caroline Kennedy and Ellen Alderman and I was fascinated with Constitutional law. When I ran into this teacher years later, he wasn't surprised that I ended up going to law school, he was just surprised it took me a few years after college to realize that's what I wanted to do.
The most illegal thing I did in high school was paint the "graffiti bridge" in town a few times after some sports seasons. I wish I had a picture of some of our artwork, but here's what it looks like now. So funny to think that I'd tried to convince my mom that I had no part of the WCC CHAMPION GIRLS' SOCCER bridge decoration when we wrote our own names all over the walls.
RUSSIA
I maxed out of the Spanish course offerings my Junior year after Spanish V (my profesora would be horrified if she witnessed my attempts to communicate with a cab driver in Madrid in 2005. "If only you applied yourself, Holly…" she'd say). So, I took Russian I and Russian II my last 2 years of high school. This allowed me to interact with my favorite teacher (and one of my favorite people ever). It also allowed me to spend 3+ weeks in Russia for an exchange program with some of my high school buddies my Senior year. That trip involved many, many stories, including bartering cassette tapes for Matrioshka dolls and sledding on cardboard outside of the Kremlin Wall until the armed Kremlin guards "kindly" asked us to leave. Needless to say, I still didn't drink, so I had the pleasure of watching some of my American classmates try to keep up with our Russian counterparts on the vodka drinking.
LOSS
My high school world was pretty small. The things I thought that were big deals then seem so silly now. I did have a big crushing reality hit in January 1993. My childhood best friend, neighbor and one of the nicest guys on earth was killed along with another classmate in a horrific car accident. I was called the next morning to help with the "crisis team" since I was a peer counselor. It made me shift into help mode while I also struggled to grieve. It was also the first time I remember seeing my parents really cry. It really hit me that they were hurting as well.
FLYING
I wanted to fly. I watched Top Gun about 100 times in high school. I wanted to fly in the Navy like my father and grandfather. We visited Annapolis and I loved it! I actually applied for, passed the physical test, got my senator's endorsement and got in to the Air Force Academy. But I was truly disappointed that women couldn't fly combat. So, I went to college on a tennis scholarship instead always keeping one eye on potentially going to Navy OCS after college. (Yep, that never happened either)
LOOKING BACK NOW
What's funny to me now is I look back at high school with some of my friends and many of them knew I was gay back then. I'm not sure why I didn't figure it out until I was 23. It could have saved me some time if I knew then. But I'm not sure if I would have had the courage in high school if I had known.
I'll end this with a pic from my Senior Prom. This was my boyfiend, Jim. I really adored him and probably cruelly broke his heart when I told him I didn't want to be "tied down" when we both went off to college. He's a wonderful, wonderful guy and I'm thrilled that he has such a happy life now too!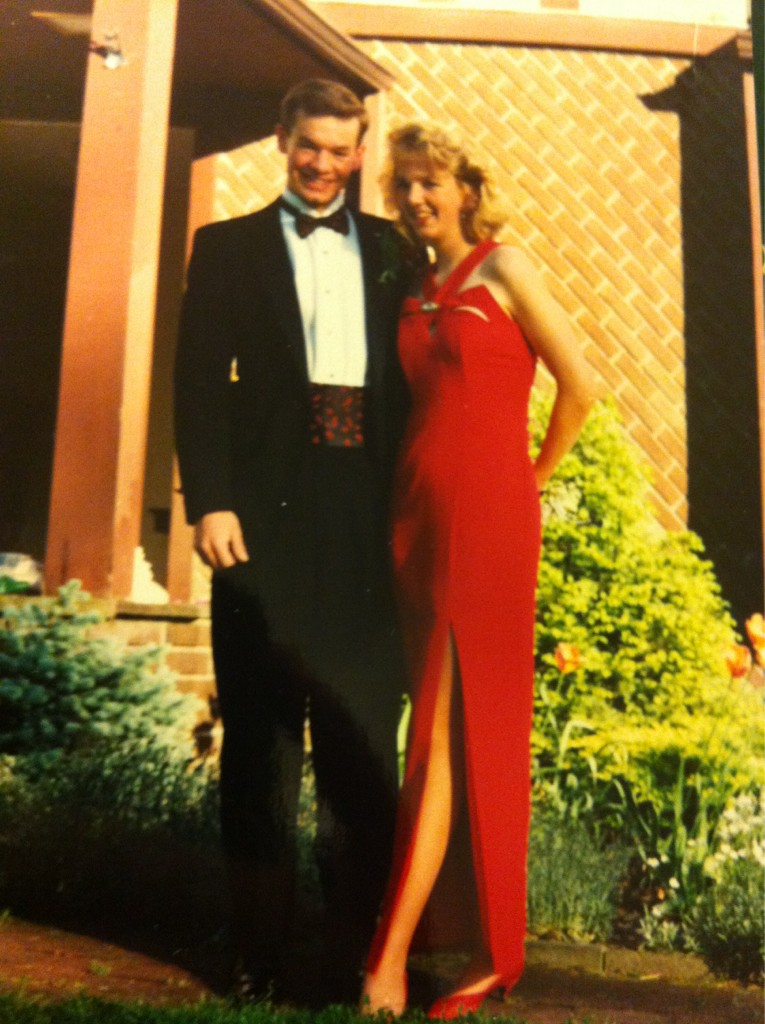 Damn. I was skinny back then! LOL