It's the last day of our 5 days of giveaways! If you missed any from earlier in the week  don't fret – you can view them all here!
For our last giveaway we're doing a little bit of a lot of different things. We're going to pick TWO winner's who will each get the items described below. Many thanks to all the businesses that contributed to our giveaways this week – we're so happy to work with all of you!
OK let's get to the good stuff.
Both winner's of this giveaway will receive a $50 gift card good at any Max Restaurant.
I LOVE me some Max Amore. Seriously. I do. All of the Max Restaurants are INCREDIBLE. My husband and I went on our first romantic date over 8 years ago at a Max Restaurant so they hold a special place in my heart. You are always guaranteed great service and phenomenal food (and drinks) when you visit any of their locations. Make sure to head over to their website to check out all the different menus. If you have special dietary needs they can usually accommodate you which is awesome. Read about all of their locations here. I love, love, love working with them and am thrilled that we can give away 2 gift cards!
A girls night out, a date night with your partner or even just spending an evening solo, all while enjoying really fantastic food and a great atmosphere – YES PLEASE!
Choose to Be Nice
Each winner will get a Choose to Be Nice sweatshirt.
We highlighted Choose to Be Nice in another giveaway we did back in September and I am beyond excited to welcome them back again. I just love their message and their purpose. The mission of Choose To Be Nice is very simple.  They want to inspire, promote and encourage kindness whenever and wherever possible. Now THIS is a message I can get around. We at CT Working Moms are often engaging in random acts of kindness and really, the entire message behind our Campaign for Judgement-Free Motherhood is about being kinder to each other.
One part of Choose to Be Nice that is unique and really lovely is that you can actually take a pledge to be nicer! How cool is that? Their pledge reads: "I promise to help spread kindness wherever and whenever possible. And to the very best of my ability, I'll be nice to those with whom I come into contact on a daily basis." If spreading kindness is important to you I hope you'll hop over to their website and officially sign up!
I'd be remiss if I didn't mention the Choose to Be Nice founder, Dina. She truly practices what she preaches and it's been a wonderful pleasure to see how far and wide her reach is. Her social media numbers have been skyrocketing and I love watching her success. It's so deserved.
If you'd like to see what else they sell in their online shop, check it out!
I have to give props to our writer Vivian for securing the rest of the giveaways below. She even did the write ups! I'm so happy she was able to hook us up with some goodies from the Fairfield County area. Check this stuff out!
If you've been following any of my posts, you will know that I love the little town that I live in. At first glance, you might think it's a sleepy little town buried in a small corner of Connecticut, but when you spend more than a few minutes here, you quickly realize how rich it is in resource and talents.
Three such talented local artists are women who I have gotten to know extensively over the years. These women are amazing women who have built successful businesses in town and who have offered to provide a few of the items in today's giveaway basket:
One winner of today's giveaway will receive an authentic seaglass necklace, and the other will receive beach-quote necklace with the saying "Breathe." Both necklaces come with 16 inch chains.
Beth Crowell is the founder and owner of Wilton Artisans (Sea Glass and Coastal Jewelry). I first learned of her work when I saw someone wearing one of necklaces, and HAD to have one. After perusing (drooling is a better word for it) over her jewelry, I ended up settling on a beautiful brown glass pendant, and every time I wear it, someone asks me about it. I even bought one of the necklaces for CTWM's Michelle Noehren!
Beth guarantees that every piece is authentic, unaltered sea-glass, and every piece has a story and uniqueness of its own. Check out her website  and her Facebook page to see more of her beautiful work. Also, check out her Blog page which has some cool beach-inspired crafts and some beautiful photos!
Winners of today's giveaway will receive a beautiful, globe ornament in taupe, pinned with a "Connecticut" banner in taupe and hand-glittered by the Glitter Fairy herself.
Laurie Davis is known around town as "the Glitter Fairy." She is the owner of GlitterWorksStudio, who also happens to have a fabulous voice – she and I have been singing together for the past 16 years with the Wilton Singers and it's not uncommon to see her show up to our rehearsals and performances covered in glitter. My first purchase with her was one of her trademark "glitter pears", and I am obsessed with getting my hands on a glittery ballerina ornament for my daughter (which is sold out everywhere).
Check out her webpage and Facebook page for some more beautiful and amazing items. Laurie has appeared on the Martha Stewart show several times.
Winners of today's giveaway will receive one of two inspirational scarves, with the saying "I Refuse to Sink" or "Teach-Love-Inspire."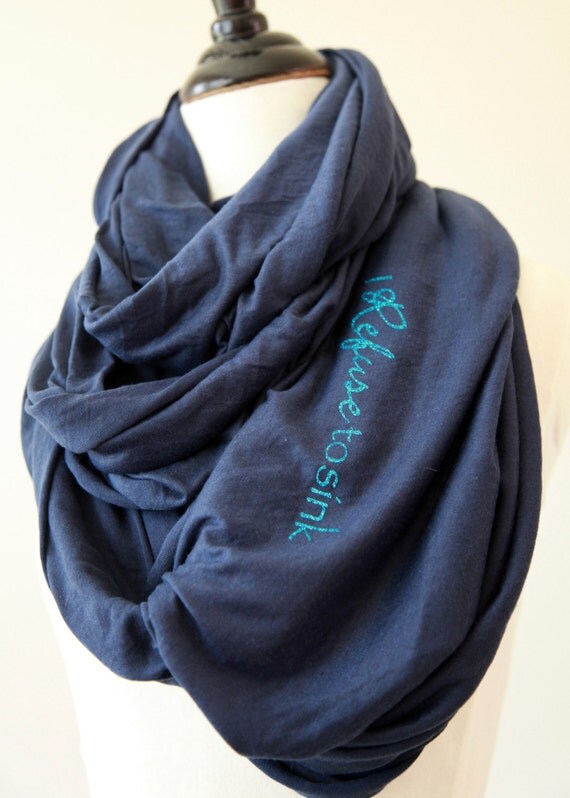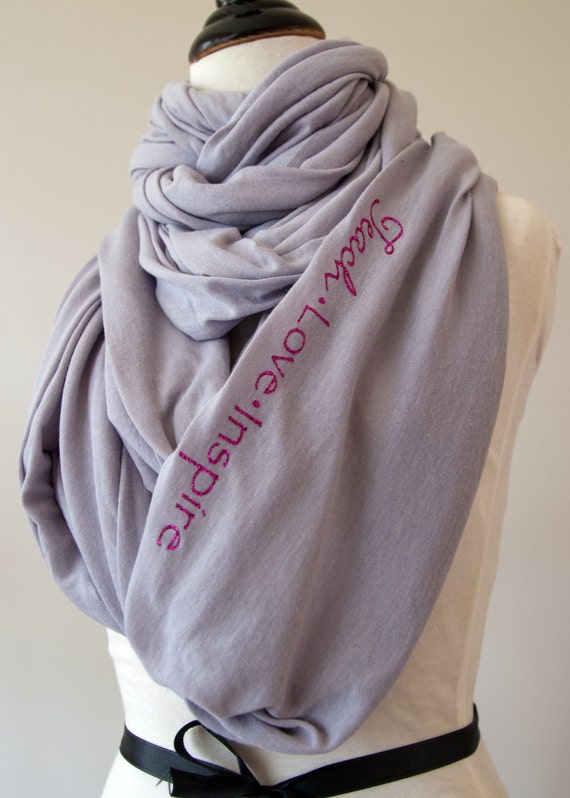 When Beth Crowell and Maria Stepnowsky co-founded Just Own It Now (JOIN) last year, their objectives were simple – they wanted to spread messages that help Inspire and Empower women to:
Remember that they were Born to Be Awesome,
Spread that awesomeness around the globe to others who are down with their own struggles,
Spread the message to forget the unrealistic standards of what social media projects on us with who we should LOOK like or BE like or ACT like,
And be yourself because everyone else is taken.
Their line of clothing and accessories do just that with inspirational messages printed on each item. Check out their online store and their Facebook Page – you will be hooked.
Enter below to win all of the items described below. You know you want to!