Get ready, folks. I'm about to plan another goodie bagless birthday party! We decided this year to take it a step further. Olivia will be six and I feel like she's old enough to get this concept (I would credit who I heard it from, but school ends next week and Dunk-a-Teacher is tomorrow, and today was Bring a Magic Trick, and there are class parties and half days and I just don't remember anything right now.), so I threw it out to her: We could either have a big party for all of her school friends and rent a giant bounce house (which is still her preferred method of partying) or we could have a small family party and use the money we would have spent on the big party to buy her a larger, meaningful gift. If I'm honest, I can't even remember the last time we bought her an actual birthday gift. Every year when I'm eyeing what we spent on the party (even WITHOUT goodie bags), I'm like, DAYUM, KID. THIS IS YOUR GIFT. BYE.
And that's fine, if that's what she wants. It's her birthday, so this year I let her choose. And she chose the small family party and a larger gift with one caveat: she wants a dragon themed party. DONE AND DONE, MY GIRL.
Except, get this: all dragon themed parties are either: 1) How to Train Your Dragon themed 2) Dragons Love Tacos themed (which would be EPIC, but Olivia doesn't eat tacos. I know. I don't get it either.) and, perhaps most annoying of all, 3) FOR BOYS.
My girl loves to play knights and dragons and she loves sports and she loves pink. She wants a girl dragon party. And do you know I could only find one single girly knight/dragon invitation in ALL OF ETSY?!?!?! Oh, there were plenty of girls on the dragon invitations. But they were all princesses needing to be saved by knights. Eff that.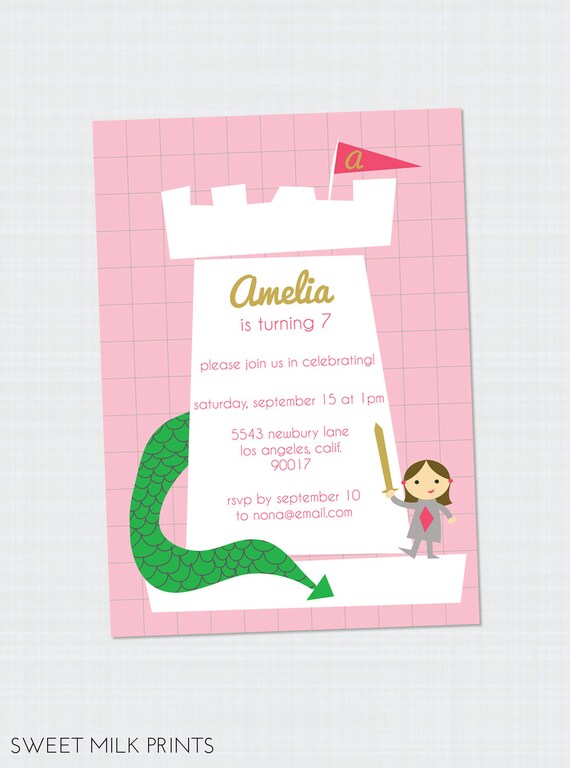 So, I will get crafty this year. And I will make Olivia the best dragon party that I can even dream up because even on Pinterest, the pickins? They are slim. I'm actually pretty excited about it. Get ready, family. It's gettin' hot in herrrrrr.