There is just something about November that seems to invite reflection. In my family, there is a calmness, following a sports-fueled Fall. The days are brisker and darker and I find myself wanting to breathe out and enjoy the quiet.  Life, briefly, slows down.
Three years ago, I shared a number of things I was Thankful for.  While they still ring so true, I am a few years' older now, a little wiser, a bit sadder, and definitely stronger. My heart has been battered a bit, and expanded a bit, and still I move forward, carried sometimes on the shoulders of those who love me, other times, supporting their load. 
I cannot help but again recognize all I do have to be thankful for, some of it a bit unconventional.
Acceptance. This year, I stopped trying so hard. Not at first. At first, I thought I could do it all. I tried to do it all. School and family, work and home. But it was not working. I was tired and ineffective, short on patience and just not nice to be around. Then, just a few months ago, I gave myself permission to slide. I cut myself some slack and just accepted. 2019 was not going to be the year where I would be a superstar. This year, I would just be good enough, free from the pressure I was putting on myself to excel. I did my work at work. I focused on home at home. I stopped snapping at my family and worked on enjoying and being present in the moments.
Coaches and mentors. As capable and together as we sometimes are, we just cannot do it all. There is never enough time, energy, or even patience to get everything done on our own. What a blessing it is to have talented others choosing to be in our lives and helping us all learn and grow. My children have wonderful role models outside of our family. This is critical, as my kids continue to puzzle out their own values and work to figure out the type of person each wants to become. Wise words often sound different when they are not coming from Mom or Dad.
Distance. When I lost my mom that final time, I was left to create another ordinary routine. One that no longer involved emotional visits or ever-present guilt. My new normal included some respite from several years of sadness, permission to take a break from my contradictory feelings. Instead, I focused on the present moments. I lived my life. I appreciated. And, in doing so, without a plan or a schedule, even without me really noticing it, I started to move forward.
At first, I did not notice it. Something would happen, and I would think to myself, "My mom would have gotten a kick out of what my daughter said." Or, "She would have really loved that." It happened at least a few times before I realized the import of it. I was thinking about my mom.  Not the shell she became, but the living, breathing, fierce and loving mother of mine who would have cherished her role as Nana.
Darkness. The heartbreaking times are so hard. But getting through the rough patches allows us to really learn who we are and what we are capable of, what is important and what we can let go. We are all so much stronger than we realize. While it is difficult to learn through the sorrow, the only way to come out is transformed.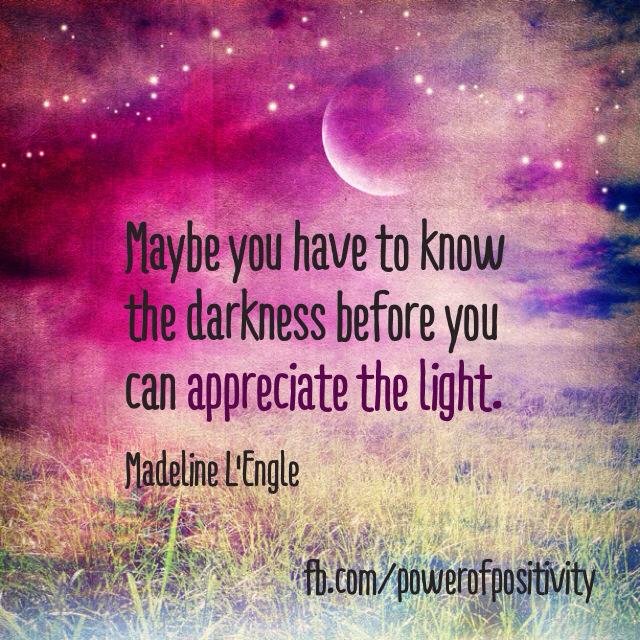 I am, always, so thankful.